NEXT WORKSHOP
– Dates to be announced soon!
Adobe Lightroom is the perfect tool for every photographer in order to keep organized and do treatment to your photos. This is an introduction to Adobe Lightroom and it will help get you started working with it right away. You will learn the fundamental tools, the techniques, and the workflow from importation to final export of your photos.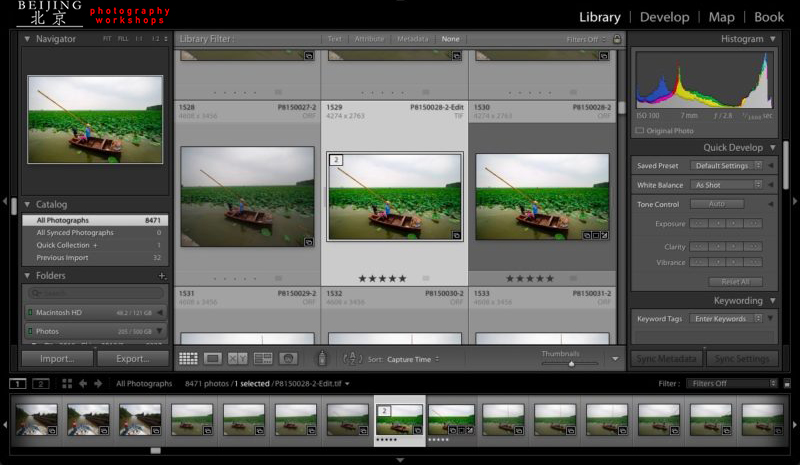 Topics we will cover:
-How to import your photos into Lightroom
-Navigating through the application
-Organizing your photos
-Basic editing tools (exposure, white balance, crop, noise reduction)
-Some tricks to improve your photos
-Exporting the photo and how to add a watermark
Requirements:
-Laptop using Mac or Windows with a working copy of Lightroom Classic.
-Basic computer skills and be able to navigate their desktop and file system, copy and paste, select files, etc.
-Free disk space and 5 images in RAW format. You can bring you files on a usb key or card. I will help you for the transfer.

Price: 500 RMB/person (group from 2 to 4 people). Contact me if you want a private session
Place:
JinShang
Building No.20
Xinyuanli West,
Chaoyang District,
Beijing

Please reserve now as places are limited. Contact me by wechat or email at infos@beijingphotography.com
Cancellation and refund policy
A deposit of 50% will be asked on your inscription. The remaining balance will be paid the day of the workshop. You are eligible for a full refund of the deposit if the cancellation is 1 week (7 days) before the workshop or else the deposit is no-refundable. But you can transfer the deposit to someone else or apply it to a future workshop.
Beijing Photography Workshops reserves the right to cancel the workshop anytime for any reasons. We will then give you a refund of your deposit or arrange an alternative date for the workshop. This workshop require a minimun of 2 peoples. If they are are not enough participants, we will then give you an refund of your deposit or arrange a alternative date for the workshop.
We are not responsible of your equipment or any accidents that might happen during the workshop.
---